FAST and FURIOUS: FAST FIVE – Opening Chase (Charger, NSX-R and Trans Am vs Bus MC-9) #1080HD
FAST and FURIOUS: FAST FIVE – Opening Chase (Charger, NSX-R and Trans Am vs Bus MC-9) #1080HD
"Want to go for a drive?"
―Mia Toretto to Brian O'Conner
The Acura Integra is a minor car in The Fast and the Furious franchise.
History[]
1996 Acura Integra [DC2][]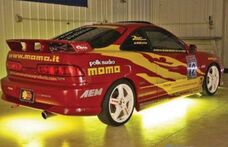 Edwin drove a red '96 Integra DC2 in The Fast and the Furious. The car was equipped with a Wings West RS Racing Series ground effects kit, Momo GT rims with red socket lungs, a heavily modified suspension, cold air intake, 3mm overbored throttle body, TruTime adjustable cam timing gears, Type-R intake cam, red anodized overdrive pulleys for both the alternator and power steering, fuel rail, fuel pressure regulator, fuel filter, DC Sports headers and exhaust, GReddy engine oil cooler, MSD 6A ignition and external HVC blaster coil, and an Exedy racing clutch and lightened flywheel.
1994 Acura Integra LS [DB8][]
Mia Toretto drives a blue '94 Integra LS sedan in The Fast and the Furious. This Integra has a JDM front end. She uses it to show Brian her driving skills as well as to drop him off at his place.
Trivia[]
Edwin's Integra was rented from a man named Bill Kohl whilst Mia's Integra was rented from a woman named June Shi which was totaled when her car was sandwiched in between two cars after being rear ended within a month after she got the car back.
Modifications[]
Engine Specs

AEM Cold Air Intake System
RamAir Cold Air Intake Filter
DC Sport Engine Headers
DC Sport Exhaust System
GReedy/Trust Engine Oil Cooler
Neuspeed Yellow Spark Plug Wires
MSD 6A Ignition Unit
AEM 3 Millimeter Overbore to Throttle Body
AEM Tru Time Adjustable Cam Timing Gear(s)
Neuspeed Transmission Short Shifter
Suspension Specs

Energy Suspension HyperFlex Polyurethane Bushing Set
Specialty Products Camber Adjustment Kit
Neuspeed Race Lowering Springs -2.5″
Neuspeed Front Upper Tie Bar
Neuspeed Rear Upper Tie Bar
Neuspeed Rear Lower Tie Bar
Neuspeed Rear 19 Millimeter Sway Bar
Koni Double Adjustable Shocks

Audio Specs

Kenwood 9000 Stereo and CD Player with Removable Face
MTX Blue Thunder Pro 752 Power AMP (280 Watts)
JBL Front Speakers (GTO-602)
Pioneer Rear Speakers (TSA 1646)
Street Wires Battery Cables and Terminals
Street Wires Engine Ground Cable and Terminal Ends

Visual/Body Kit Specs

Wings West RS Racing Series Ground Effects Kit
Wings West NATCC Touring Car Wing with Brake Light
Wings West Front Grill
Roar Carbon Fiber Front Air Dam Splitters
Lettering Concepts Graphic Design and Decals
Neuspeed Schroth Auto Control Seat Belts
DC Sport Oil Billet Cap, Plug Wire Cover and Battery Tie Down
Neuspeed Transmission Shift Knob
GReddy/Trust Oil Pressure, Oil Temperature and Water Temperature Gauges
Neuspeed Embroidered Floor Mats
Performance Techniques Billet Radiator Cap and Clutch Reservoir Cap
Purosil Yellow Vacuum and Engine Hose(s)
MOMO Racing Pedals
MOMO Nascar Racing Seats (Yellow and Red with Side Mounts and Seat Sliders (Wedge Engineering))
MOMO Racing Seat Base Mounts
Folia Tech Brake Caliper Paint
Folia Tech PowerFuel Gas Tank Cap Trim
Folia Tech DTM Exhaust Pipe Design Film
Folia Tech Race Tow Ring Front
Folia Tech Race Tow Ring Rear
Folia Tech Driver and Passenger Side Floor Kick Panels
Folia Tech Red Leather Steering Wheel Cover
Folia Tech Carbon Fiber Design Film
Acura Blue Ionized Headlights (55 Watts)
Acura Blue Ionized High Beam Headlights (100 Watts)
Acura Factory Fog Lights Fixture
Acura Blue Ionized Fog Lights (55 Watts)
Performance Techniques White Gauge Faces (Overlay Only)
Weapon R Polished Battery Box Cover
Coyote Enterprises Red Powder Coated Socket Lugs (Wheel Lug Nuts)
Coyote Enterprises American Racing Flush Mount Valve Stems
Metcalfe Plastics Flexguard Front Headlight, Marker Lights and Fog Light Protectors
Tires, Rims and Brakes[]
Rims

Blitz Techospeed Z1 Rims 17″ – 7.5″
Tires

Michelin Pilot SX-GT Tires (205/40/17)
Brakes

Neuspeed/Brembo Cross Drilled/Vented Brake Rotors
Axxis Metal Master Brake Pads
ATE Blue Brake Fluid
Neuspeed Stainless Steel Brake Lines
Gallery[]
Screenshots[]
Videos[]